Publishing time:2022-10-25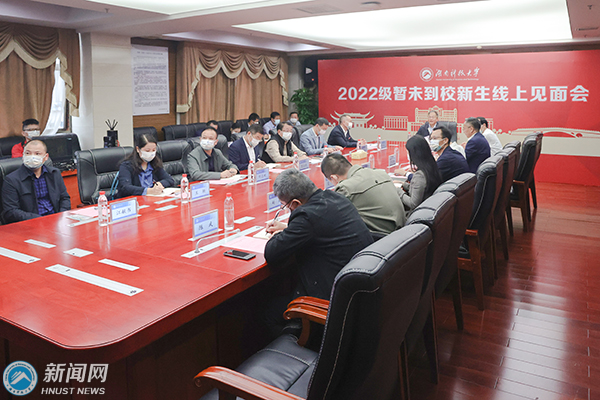 At 9 a.m. on October 5, an online meeting for the freshmen, class of 2026, who had to postpone their arrival due to the epidemic was held in the conference room of the Lide Building. Tang Yayang, Secretary of the Party Committee of HNUST, Zhu Chuanqu, President of HNUST, He Zelong, Vice President of HNUST attended the meeting, as well as heads of the Party Office, the Office of Academic Affairs and other functional departments, and representatives from the Deputy Party Secretaries of each school, the off-campus freshmen of undergraduates and postgraduates and their parents. The meeting was chaired by Vice President Liao Xiangyue.
Tang extended his welcome and gratitude to the freshmen in his speech. Then he introduced the overview of HNUST to them and their parents from the aspects of the school's history, departments and teaching conditions. Tang also proposed that teachers should spare no effort to support the COVID-affected students, including teaching services like textbooks allocation and online teaching. Moreover, volunteers should be selected to offer two-on-one help for the students. In addition, Tang hoped the students could support the school's work of epidemic prevention and control and balance their study and life. At last, he expressed his gratitude again to the students.
Liao confirmed that joint efforts from both school and home would be made during the online classes for the freshmen affected by the COVID. He hoped that the new students could keep touch with their counselors, teachers and fellow students and take care of themselves. Liao also stressed the importance of a good mood and the balance between study and life. And he pointed out that all the students should make preparations for returning school.
During the meeting, the new students and their parents also expressed their gratitude for the care and help from the school and said they would give full support for the school's epidemic prevention work so as to return to school as early as possible.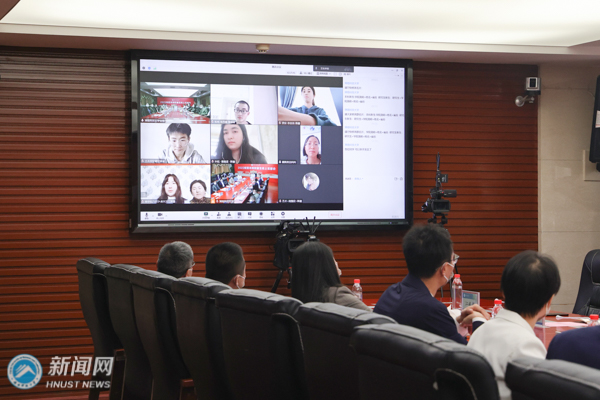 After the meeting, Tang hoped that all the attending teachers could make full allowances for the students' difficulties and meet their demands as much as they could and implement the school's philosophy to overcome the difficulties together. He stressed their responsibilities on education and management, and the concerted efforts of serving for students. Moreover, on the occasion of the forthcoming 20th National People's Congress of the CPC, all HNUSTers should be in line with its spirit for the school's key development.
(Translated by HUANG Nan, WANG Yan)