Publishing time:2022-11-23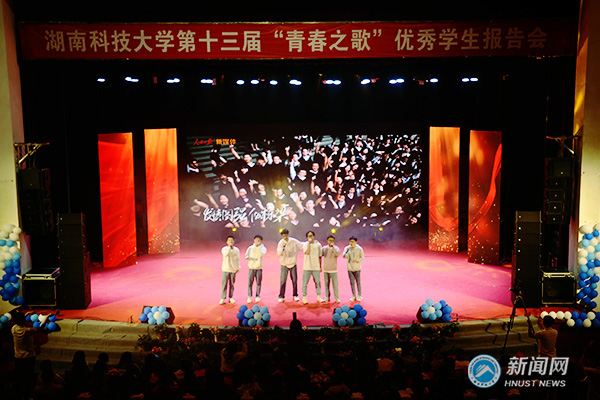 On the evening of November 17th, HNUST held the 13th "Songs of Youth" outstanding students report meeting in the South Campus Club, where ten excellent students shared their stories of youth. Liao Xiangyue, Vice President of HNUST, Xie Hui, Vice President of HNUST, Guo Shiyin, Secretary of the Discipline Inspection Committee of HNUST, relevant directors of departments, as well as some student representatives were present.
Zhong Yuanjun, a senior majoring in Building Environment and Energy Engineering, plans his college life deliberately and volunteers actively with the hope of creating a glorious future.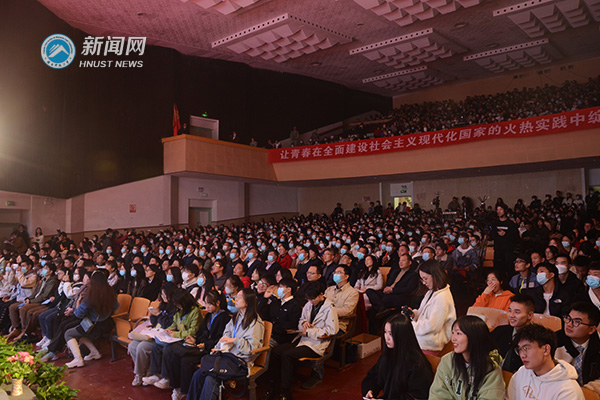 Cao Jing, a senior majoring in Product Design, spares no effort to seize every opportunity to push herself forward and takes the initiative to join in activities in the countryside, making her contribution to rural vitalization.
Senior Zhang Yu, majoring in Computer Science and Technology, is down-to-earth in academic devotion and self-breakthrough. With perseverance, he finally gains the offer to Tsinghua University.
As a student in charge of study, Chen Zhenyu, a senior from Optoelectronic Information Science and Technology major, always works hard and creates a learning atmosphere in class as a role model.
Yang Lingling who is a freshman of postgraduate struggles to improve herself, winning more than thirty awards. She expresses that she would try her best to realize her dream.
Tang Gan, a senior from Applied Psychology major, has volunteered for more than 200 hours. He is dedicated to helping others, serving society with his professional knowledge and fulfilling his dream as an educator in his youth.
Yan Zhihong, a senior majoring in Mathematics and Applied Mathematics, takes part in diverse voluntary services when pursuing the mysteries of math. Searching for truth is always the principle he insists on.
Yuan Xingwang who is a junior majoring in Physical Education, takes every training seriously. He studies diligently, loves life, and puts the dream of physical education into practice.
He Jingxiu, a senior from Electrical Engineering and Automation major, dares to break down prejudices, tackle difficulties, winning several scientific awards.
Having gone back to campus from the army, Wang Jie, a sophomore from Mechanical Design and Manufacture and Automation major, continues carrying forward the fine tradition of courage and assiduity to innovate and become the leader in various fields.
During the meeting, students and teachers appreciated a group of wonderful performances including impassioned Young China, lively and beautiful dance, and vigorous and spirited cheerleading.
Chen Zhuoqi, a freshman majoring in Chinese Language and Literature, believes that youngsters should be down-to-earth and dedicated to their dreams.
(Translated by QIN Sijin, CHEN Na)