Publishing time:2022-04-06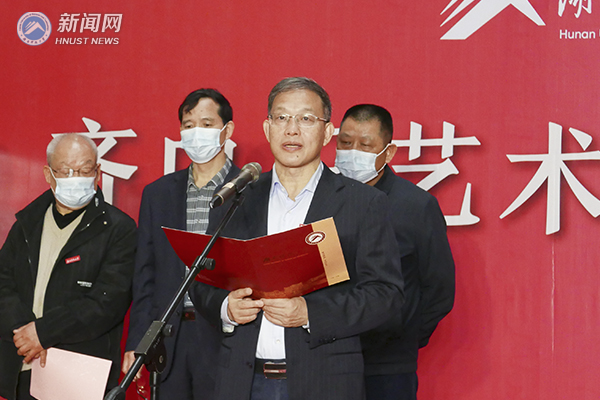 The period of HNUST without an art museum is coming to an end. Presided over by Zhao Qiancheng, Vice President of HNUST, the opening ceremony of the construction of Qi Baishi Art Museum was held in the Teaching Building(10) on March 31. Tang Yayang, Secretary of the Party Committee of HNUST, Zhu Chuanqu, President of HNUST, Du Yueyi, alumnus of HNUST and Chairman of Hunan Baishi Art Media Co., Ltd, directors of relevant functional departments and representatives of teachers and students from Qi Baishi School of Art were present.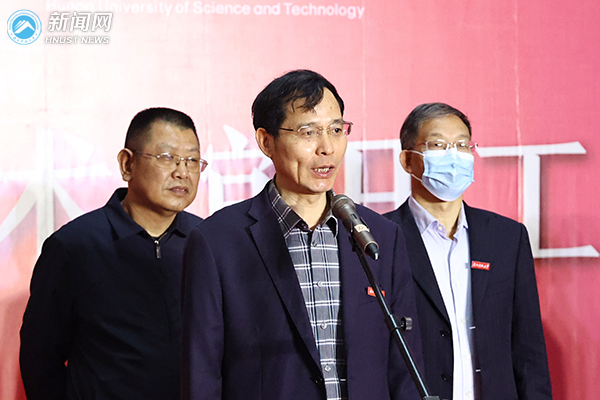 Tang said that building the Qi Baishi Art Museum could further raise the prestige of 'Baishi Culture', strengthen art education and establish the development community of 'Alma mater + alumni', which was a landmark for HNUST's development. Given that the construction needs to be well-arranged, Tang underlined the four factors- 'System', 'Baishi', 'Art' and 'HNUST',deserve taking into consideration. We should not only pay attention to the quality and progress of the project, but also the harmony between the building and the surroundings, highlighting the profound essence of Qi Baishi and his works through a variety of ways and constantly enhancing the popularity and reputation of HNUST, Tang urged.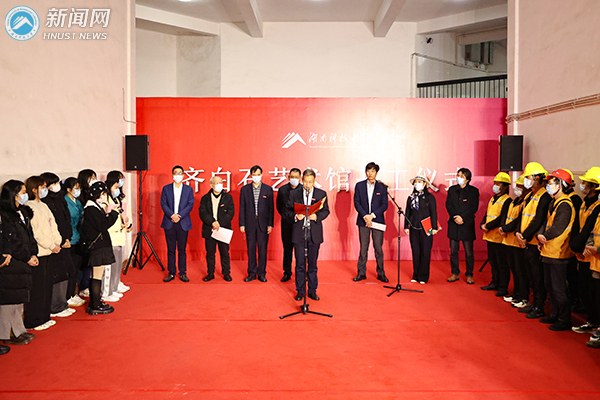 Du Yueyi expressed his deep affection for HNUST, his alma mater, and pride to do his best for the development of HNUST. Today's ceremony of construction is of far-reaching significance for Du Yueyi. "We will uphold the company's fine tradition and complete the reconstruction and expansion project of Qi Baishi Art Museum on schedule with quality and quantity." On behalf of the construction team, Du Yueyi solemnly promised.
Finally, Zhu Chuanqu, on behalf of HNUST, signed the Agreement on Donation and Reconstruction of Qi Baishi Art Museum of Hunan University of Science and Technology and took a group photo. Zhu Chuanqu announced that the donation and reconstruction project of Qi Baishi Art Museum officially started. It is reported that after completion, Qi Baishi Art Museum will become a remarkable place for HNUST to carry out aesthetic education, and a landmark building for students' study and life.
(Translated by SUN Ying, LI Jiaojiao)