Publishing time:2023-06-08
On May 27th, Hunan University of Science and Technology (HNUST) officially inaugurated its School of Advanced Interdisciplinary Studies, marking a new chapter for innovative research of disciplinary integration.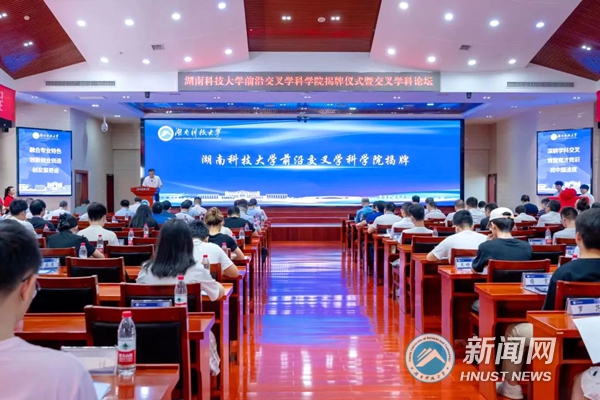 The opening ceremony was witnessed by experts and professors from domestic universities and research institutes, including University of Chinese Academy of Sciences, Renmin University of China, Sichuan University, Central South University, Hunan University, South China University of Technology, Hunan Normal University and Hunan Double Carbon Research Institute. Zhong Qiuming, Director of Student Information Consultation and Career Guidance Center of Hunan Universities and Colleges, Liu Youjin, Deputy Secretary of the Party Committee of HNUST and Liao Xiangyue, Deputy President of HNUST attended the ceremony. Leaders of relevant departments, secondary units, and research institutes, as well as teachers and students of relevant disciplines, were also in attendance.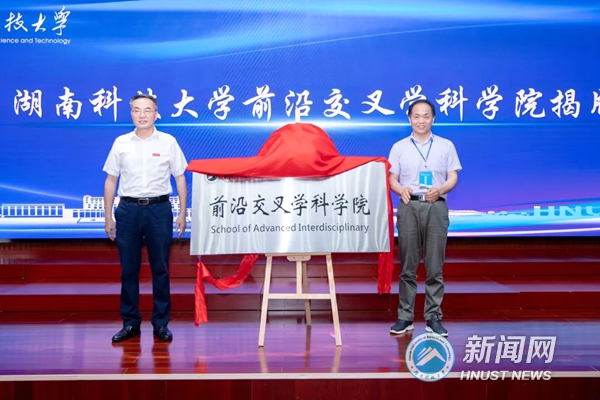 Liu Youjin pointed out that promoting advanced disciplinary integration is crucial for innovation. The university aims to develop new patterns of disciplinary integration to drive scientific paradigm shifts. HNUST plans to leverage its unique advantage of cross-disciplinary research and achieve breakthroughs in advanced technologies. Liu emphasizes the need for the School of Advanced Interdisciplinary Studies to adopt a problem-oriented, innovation-driven, talent-based and system-guaranteed approach to building and developing its programs.
Jiao Yong, the dean of mathematics and statistics and the director of Center of Mathematics and Interdisciplinary Sciences in Central South University, stated that the inauguration of the School of Advanced Interdisciplinary of HNUST marked the university's entrance into a new stage of interdisciplinary education. He also extended his wishes that HNUST will continue to improve its disciplinary integration while also considering its unique features. This will enable the university to cultivate more versatile, innovative, and applicable talents that meet the needs of society's high-quality development.
The key to advanced interdisciplinary is to foster a research context with good innovation and intersection. Liu Hongrong, the professor of Hunan Normal University, proposed his own perspective, hoping that the new School of HNUST could serve as a pioneer in breaking away from the traditional system for education and scientific research in domestic universities and promoting the inter-disciplinary communication to implement the National Strategy for Innovation-driven Development more effectively.
HNUST has recognized the crucial role of disciplinary integration in driving science and technology forward. In response to this trend, the university has taken a proactive approach by utilizing the resources of its National Innovation and Venture Practice Base and founded the School of Advanced Interdisciplinary. Through these initiatives, the HUNST will promote interdisciplinary research and foster talented individuals. The university's "353 Strategy" will also be implemented in order to achieve its goal of becoming a comprehensive first-class domestic university with international influence.
(Translated by Shu Ting, Hao Xiaoyong)