Publishing time:2022-03-22
On the afternoon of March 15th, Liu Zhiren, Party Chief of Xiangtan, made a field trip to HNUST. Liu hoped to further deepen the cooperation between HNUST and Xiangtan to jointly develop Chairman Mao's hometown better. He also extended that the Party Committee and the municipal government of Xiangtan would wholeheartedly support and serve the development of HNUST and spare no effort to build a better teaching, scientific research and living environment for it.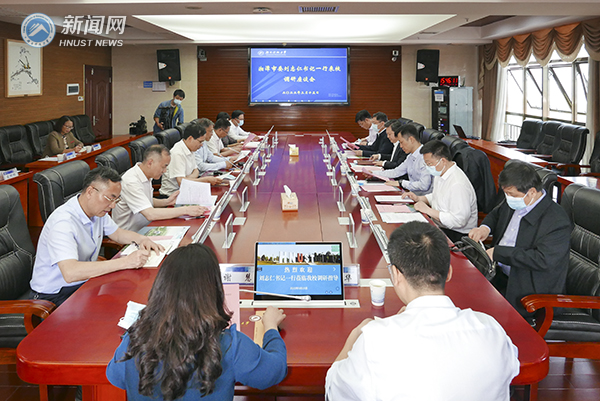 Liu Yang, Deputy Party Chief of Xiangtan and Head of the United Front Work Department, and Fu Jun, Deputy Mayor of Xiangtan, attended the field trip. Zhu Chuanqu, President of HNUST, presided over the research symposium. Tang Yayang, Secretary of the Party Committee of HNUST, reported the condition of HNUST in it. Relevant leaders at school were present.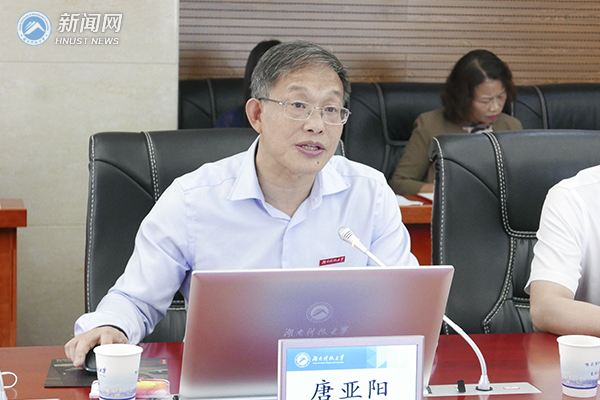 Secretary Tang expressed that in recent years, with the correct leadership of the Party Committee of Hunan province and the strong support from the Party Committee and the municipal government of Xiangtan, HNUST has thoroughly implemented the study of General Secretary Xi Jinping's important expositions on education and the spirit of his important speech in his inspection to Hunan, implemented the fundamental task of fostering virtue, and accelerated the construction of "double first class". He laid emphasis on the report of the work of HNUST since the third Party congress, introducing the "353" development strategy("Three Comprehensive Transformation", "Five More Focus" and "Three Continuous Improvement"), and the contributions of HNUST to Xiangtan's economic and social development in terms of talents, intelligence, scientific research, military industry and education, and also gave an account to the Party Committee and the municipal government of Xiangtan of the problems to be solved and requests to be met urgently in the development of HNUST.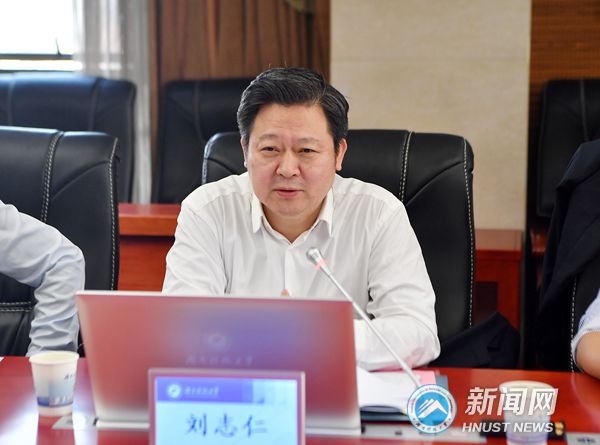 During the field trip, to have a detailed understanding of the work and achievements of HNUST in all aspects, Liu had a discussion with the leading group of HNUST. Liu pointed out that whether Xiangtan is to build "four areas and one destination"(National important intelligent manufacturing cluster area, central science and technology innovation development demonstration area, inland reform and opening up pilot area, national urban-rural integrated development pilot area, and red tourism destination with international influence), implement the strategic positioning and mission of "three highlands and four new schools" policy(the development goal that President Xi proposed when inspecting in Hunan Province in September, 2021), or to integrate into the strategy of "strong provincial capital", promote the construction of Changsha-Zhuzhou-Xiangtan metropolitan area, and realize the goal of "six new"(new infrastructure, new technology, new materials, new equipment, new products, new forms of business) the insistent support from HNUST is always needed. The Party Committee and the municipal government of Xiangtan will work together to build HNUST better and develop Chairman Mao's hometown better.
Liu extended that HNUST had a great influence in education, science and technology research, talent cultivation and local achievements.
Liu also responded to the problems and difficulties existing in the current running of schools. All relevant departments were required to increase their support for colleges and universities. Liu encouraged our school to be alert to epidemic prevention and control and guide all teachers and students to do a better job in personal protection and vaccination, to ensure that "there is no epidemic and people infected" to the greatest extent possible" on our campus.
(Translated by HU Kun, WANG Yuchen)