Publishing time:2023-03-15
Recently, Hunan Epigraphy Culture Research Association which was approved by Hunan Provincial Civil Affairs Department and undertaken by Hunan Province Social Science Federation was officially established in HNUST.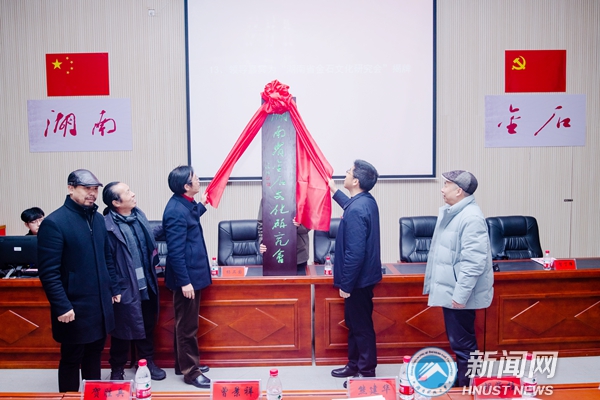 Hunan is abundant in ancient bronze and stone tablet resources. Famous tablets such as the Gu Lang Tablet in Leiyang City are of great literature and artistic value. The number of inscriptions on cliff stones of Hunan Province, an estimated total of about 4000 square meters, ranks first in China, and the number of movable inscriptions is countless. Famous bronze wares have been also unearthed, which are all valuable resources for the systematic study of the inscriptions in Hunan.
According to Zhou Ping, the first president of the Association, Human has developed quite a tradition in the epigraphic study, with Song Rong's New Records of Wuxi in the Qianlong period (1736-1796) already exerting a great impact on academic circles of inscriptions on ancient bronzes and stone tablets. When Luo Zhengjun from Xiangtan in the Late Qing Dynasty served as a commissioner in Shandong, he proposed to construct the Shandong library and thereby stemmed the smuggling of excavated Chinese inscription tablets abroad and also made a contribution to conserve precious cultural relics in the Han, Wei, Jin and Tang Dynasties.
It is reported that Hunan Epigraphy Culture Research Association will publish its annual journal, Hunan Journal of Epigraphy, with a purpose to sort out its rich epigraphic resources and research findings and hold academic seminars and collection exhibitions for Hunan inscriptions on ancient bronzes and stone tablets and stone rubbings. To further tap into the rich resources in Hunan and contribute its share to revitalize epigraphic studies in China, the Association will also carry out the registration and rubbing of existing tablets in Hunan province.
Translated by SHU Ting, HAO Xiaoyong