Publishing time:2023-05-31
A giant scroll slowly opened and vividly showed the prosperous images of China's 56 ethnic groups on the wall. On the morning of May 7th, Hunan University of Science and Technology (HNUST) held the inauguration ceremony of the South Gate Mosaic Mural Wall, a brand-new landmark of HNUST. The ceremony began with a performance of large-scale traditional drum dance.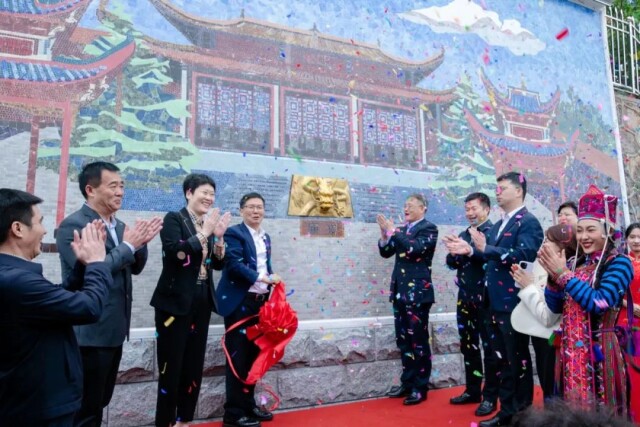 Led by Yang Yuni, a member of the 14th CPPCC National Committee and outstanding alumna of HNUST, 234 students wearing costumes of different minority ethnic groups showed off their traditional dances confidently and enthusiastically, which told HNUST's story of working hard in unity to advance China's national rejuvenation.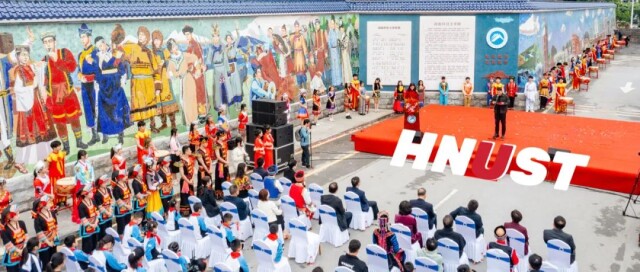 Dai Shaoyi, Vice Director of the committee of Ethnic Affairs, Overseas Chinese Affairs and Foreign Affairs of the People's Congress of Hunan Province presided the inauguration ceremony, and together with Tang Yayang, Secretary of Party Committee of HNUST, placed the head of the stone-carving coiling dragon into the mosaic wall with the guests in presence.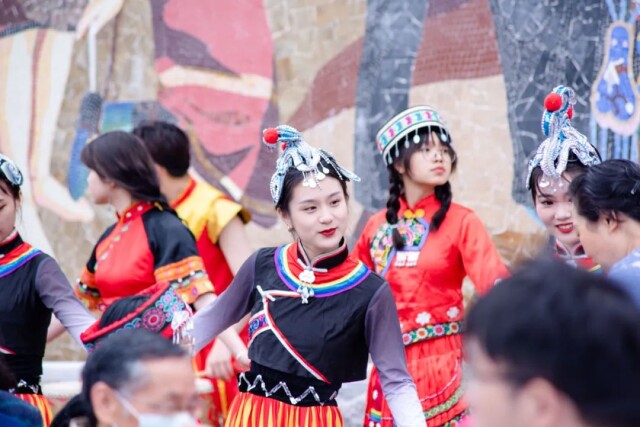 The 208-meter mosaic wall is divided into two themed sections: HNUST's history and national unity, connected by the emblem and motto of HNUST. The mural consists of more than three million pieces of mosaics, which are made of various materials like jade, crystal, and metal. Looking at it from afar, the cultural wall, the library, and the square next to the wall blend together, forming a harmonious view.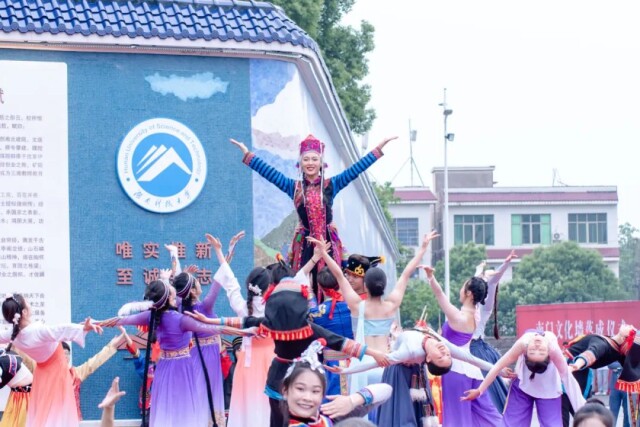 The wall was designed by Xu Jifa, a teacher from School of Qi Baishi Art and his students. They consulted numerous information and materials as well as polished the design repeatedly with the details of patterns being adjusted for more than 200 times and the types of color being increased to 258, making every character image lifelike. Material selection and production had been improved over and over again, and the accuracy of the smallest ceramic tile had reached 3mm. The mosaic was assembled by over 20 experienced workers within 150 days.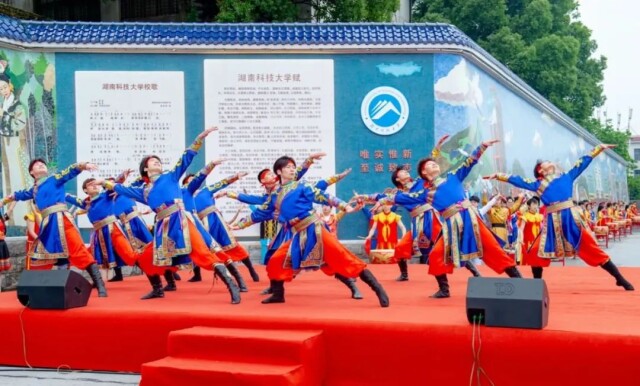 Tang Yayang said the grand spectacle of the culture wall not only showed the harmonious and happy prosperity of Chinese family, but also embodied the mission of the times and feelings of all teachers and students. Its opening also highlighted the mission of HNUST to build cultural confidence, carry forward university history culture and deepen the education of national unity and progress.
HNUST as one of the eighth "National Demonstration Unit for National Unity and Progress" has a total of 3653 students and staff from 32 ethnic minority groups. The consciousness of the Chinese nation community has been continuously strengthened by HNUST through national culture lectures, national unity education and other activities. In addition, the construction of "one orchard", "one lake" and "one wall" is incorporated into "the 14th Five-Year Plan", among which the "pomegranate orchard" and the "culture wall" have been completed while the "concentric lake" is under construction.
(Translated by SHU Ting, HAO Xiaoyong)