Publishing time:2023-01-02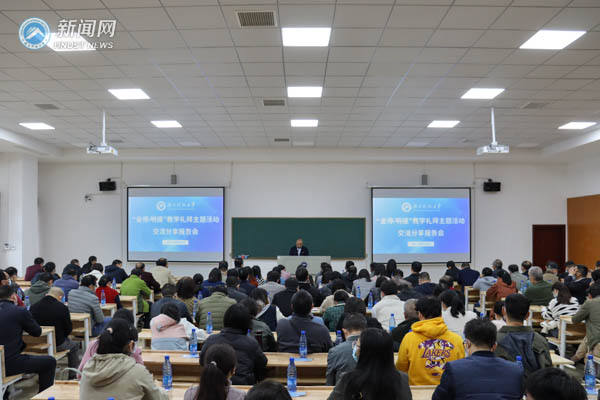 A themed sharing session of "Teaching Week" in the first semester of the 2022-2023 academic year was held in Room C512, Minxing Building on November 22th. The event was chaired by Wu Lianghong, direct of the Office of Academic Affairs. Jin Yisu, head of the Center for Teaching and Learning Development of Central South University (CSU), and Gao Jun, teacher of the School of Information and Electrical Engineering of HNUST, respectively gave special lectures on it. The activity invited representatives from the administrative office and the supervisor group from each school of HNUST.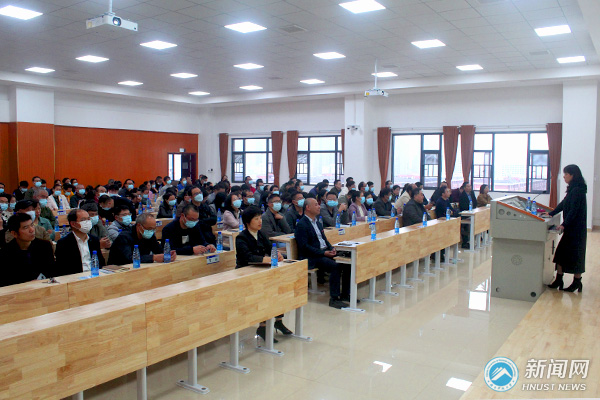 Jin's sharing beaconed a way for the cultivation of the youth teachers. In her speech, they are required to set their targets and pursuits in accordance with the development of our nation, the education of students and the personal goals as well, and she also shared her experience to improve the "5R" professionalism of teachers through the teacher-and-student rapport and the perfection of teaching and its according textbooks. Jin argued that, more than the sheer imparting of knowledge, teachers shoulder the duty of encouraging students to explore the unknown.
Holding the honor of the "premium video uploader" and the beloved "super teacher" on Bilibili, the mainland video platform, Gao Jun won himself the popularity among numerous students and netizens for his mini online courses Computer Networks. Based on personal teaching practice, Gao integrated the independent exploration and learning resources, developing his unique teaching style. Besides, with his specialized knowledge, theories were transformed and no longer dull or intricating, which impressed the students deeply. No matter the animation software, high-quality question base, or the mini online courses, all speak of the dedication of a "teaching craftsman".
Wu hopes that every teacher can accumulate their teaching wisdom and strengthen their teaching skills. As teachers in the new era, all should adhere to the original aspiration of educating people, and guiding young students to grow into the pillars of the country who share the worries, solve the difficulties, and fulfill their responsibilities for the country.
(Translated by LI Lingling ,WANG Yuchen)