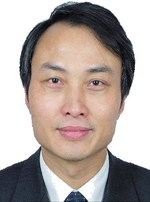 Shi Shiliang (Vice President)
  Shi Shiliang, male, born in Tiantai, Zhejiang Province in 1962, post doctorate, professor, Ph.D., supervisor. He is the vice president of HNUST. Previously, he was the vice director of Resource Engineering Department, general party branch chairman of Xiangtan Mining Institute.

  His main research fields are the prevention and control of coal mine disasters, assessment and prediction of system security, safety system engineering, etc. He has been in charge of 3 Nation Science Foundation Projects, 9 research projects of provincial and ministerial level, etc. In the above areas, he has published 3 monographs, over 100 papers, and acquired provincial level and ministerial level Technology Advancement Award as well as 4 teaching achievement prizes.