Publishing time:2021-06-10
On the noon of May 22, as the marine geology No.2 scientific research ship slowly docked at the Gull Island Wharf in Panyu District, the "manatee" team, which had been fighting for 88 days in the South China Sea, completed the sea trial and related submarine exploration tasks, making its glorious "triumphant return".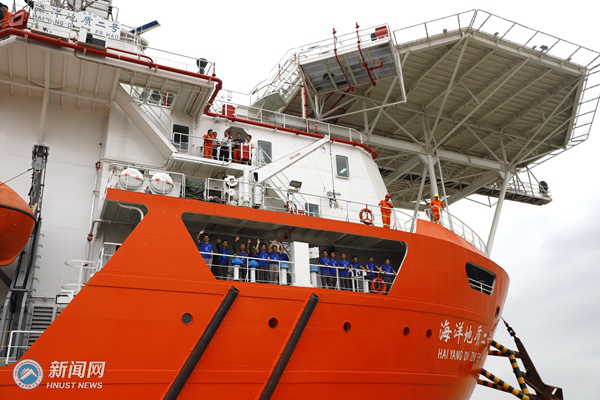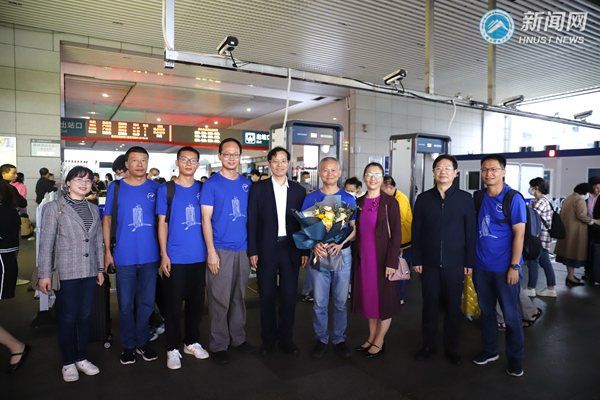 On the afternoon of May 23, the "manatee" team arrived at the high-speed railway platform. The President of HNUST Zhu Chuanqu and Vice President Wang Weijun, as well as relevant persons in charge of Science and Technology Department, cordially welcomed Professor Wan Buyan and his team, and shook hands with the team member one by one to express congratulations.
At the Center of Academic Exchange, Tang Yayang, Secretary of the Party committee of HNUST, welcomed the "manatee" team. He spoke highly of each member in the team, and praised the team members for giving full play to the exemplary vanguard role as the Communist Party members. He hoped that everyone would continue to carry forward the spirit of "manatee" in their work and study, and to practice their original aspiration and mission with concrete actions.
The school leaders also had a cordial talk with the team members, asking about the relevant situation of the "sea trial", and encouraged them to continue to step up their scientific research and strive for more outstanding achievements.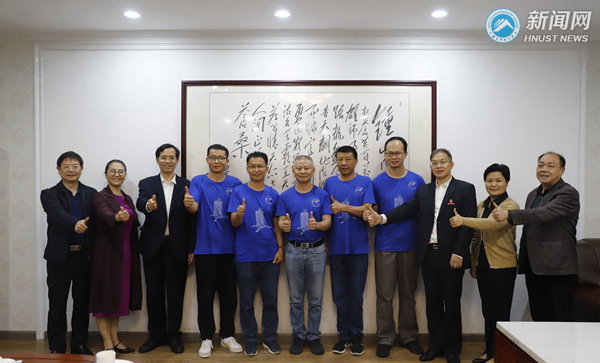 Since February 28, the "manatee" team has carried out 88 days of sea trial operation and deep-sea exploration in the South China Sea. At about 23:00 on April 7, Beijing time, Professor Wan Buyan's team led the research and development of the "Manatee II" deep water drilling rig system, which successfully drilled to a depth of 231 meters,operated over 2,000 meters in the South China Sea, setting a world record for deep water drilling. This achievement has filled the gap by innovating the deep water drilling apparatus with a drilling capacity of more than 100 meters and with the function of coring and drilling with pressure maintenance, which indicates that China is leading the world in this field.
Among the team members, there are senior scientists, mid-aged Party members, coreresearchers, and young doctoral students. From school to the deep sea, they have changed from scholars to "soldiers". In the face of harsh sea conditions, the team members have never flinched. With their youth, wisdom, passion, courage and responsibility, they have written a touching chapter of exploring the deep ocean.
(Translated by Tang Mengyue)